Event
[Report] Symposium "Thinking about the work style that connects work and life"
Date : 14th December, 2019
Place : Naruse Memorial Hall, Japan Women's University (Mejiro campus)   2-8-1 Mejirodai,Bunkyo-ku,Tokyo
RIWAC's 11th symposium was held on Dec. 14th. The theme was "Thinking about the work style that connects work and life".  It was successful and meaningful with over one hundred participants.
Part 1: Lectures
"Idea of Life career~in order to connect work and life~" by Ms. Noriko Hiraki, Consultant, IPI Institute for Psychotherapy Integration.
Part 2: Panelist Lectures and General Discussion
"About flexible work style that connects work and life-part time job sharing spreading in German companies" by Prof. Yoko Tanaka, Tsukuba University.
"Issues about personnel management system over flexible work style in Japanese companies" by Ms. Mitsuyo Matsubara, Chief scientist, PwC Consulting LLC.
"Synergetic effect of work and life" by Prof. Yoko Kato, Sugiyama Jogakuen University.
At the end, general discussion with questions from participants was held by the above four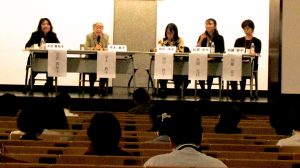 speakers and RIWAC Director Machiko Osawa.